Speedway
2019 Oval Race Schedule
March 2
March 23
April 13
May 4
June 8
July 6
Aug 10
Aug 31
Sept 28
Oct 19
Nov 9
Come on out and have some fun, No coolers, No outside food, No pets, for more info check us out on Fb and instagram
____________________________________________________________________________
AFS Racing Promotions presents T-STARS | Texas Short Track Auto Racing Series! Bringing side by side, fender banging, wall slamming, bumper beating, hard charging race action to the asphalt oval track at Houston Motorsports Park and to the Texas racing community!
Featuring:
Pro Modified's, Pro Trucks, Late Model Outlaws, Super Stocks, Eco Stocks, Nas Karts, Dwarfs, Allison Legacys
FREE MILITARY & FIRST RESPONDERS with ID
$15 – Adults | $12 Seniors | $7 Kids 6-12 (under 6 are free)
Full Concessions | Free Parking | Race Car Storage Facilities | VIP Suites | Media Room | 3/8 Mile Tri-Oval Asphalt Track with Concrete Turns 80ft Wide | Computerized Transponder Timing System
Press Release 07/30/2018 Texas Short Track Auto Racing Series (T-STARS)
Short track asphalt racing at Houston Motorsports Park has a new promoter. AFS Racing Promotions dba Texas Short Track Auto Racing Series (T-STARS) will take over the promotion of all asphalt events at Houston Motorsports Park from Motorsports Inc. beginning with Speedfest on October 20th, 2018. Race operations will continue under the direction of Amy and Aaron Hogan.The change to T-STARS is great news
for Texas short track asphalt racers because the race schedule will increase to a total of ten race dates at Houston Motorsports Park in 2019. All T-STARS events will include the NASKARTS, Eco-Stocks, Dwarf cars, Allison Legacy cars, Super Stocks, Outlaws, Pro Trucks, and Pro Modifieds. In addition, to a full race schedule, class points will be awarded for each race and class champions to be celebrated at the end of the year banquet.
The Texas Asphalt Racing Series began with two races in 2017 under the promotions of Raymond Delahoussaye and Motorsports Inc. in partnership with Amy and Aaron Hogan. In 2018 a total of three races have been run with the final race, Speedfest, scheduled on October 20th, 2018 to be promoted through AFS Racing Promotions. In addition, AFS Racing Promotions has secured ten dates in 2019 through Houston Motorsports Park owners Dean and David Baker. "We really appreciate Dean allowing T-STARS to run ten races in 2019 at Houston Motorsports Park in order to continue to bring back short track asphalt racing to the state of Texas. Dean Baker has been very willing to work with AFS Racing promotions and the Hogans to make 2019 the year that asphalt short track racing will have a full race season".
Finally, AFS Racing Promotions wants all the racers to know that the purse checks for The Liberty Bell 200 run on July 7th will go out this week under the account of AFS Racing Promotions. "We are sorry for the delay in getting the checks out to the racers. We had to finish the negotiations with moving forward under the new promoters and new series name in order to get the checks to the racers" commented Amy Hogan, the series Director.
Stay tuned for many exciting announcements to come as T-STARS plans for the 2019 race season.
Any businesses interested in sponsoring a race class or the series can contact Amy Hogan at (713) 305-9002 or by e-mail to achogan@teamhoganracing.com.
_______________________________________________________________________
______________________________________________________
Questions regarding the oval track can be sent to Amy Hogan at amy@tstarsracing.com
 or by calling 713-305-9002.
_______________________________________________________________________
Houston Motorsports Park's Speedway currently features side by side, fender banging, wall slamming, bumper beating, hard charging NASCAR racing action! The track is one of America's Premier 3/8 mile, high banked, asphalt oval short track, with concrete turns.
This state of the art complex, is situated in a park like setting inside Beltway 8, on the North-East side of Houston, only 20 minutes from downtown and 20 minutes from Bush Intercontinental Airport. It has been designed after Texas Motor Speedway, including computerized timing system and VIP suites.
Race Classes include: NASCAR Fiesta Modifieds, NASCAR BWFS Coke Trucks, NASCAR American Muscle Cars, Ecostocks, Legends, and Bandoleros.  NASCAR classes run under the sanctioning of the NASCAR Whelen All American Series.
Fun and affordable entertainment for the whole family that is sure to bring memorable excitement and big smiles to children and adults alike!  This is Affordable Family Fun!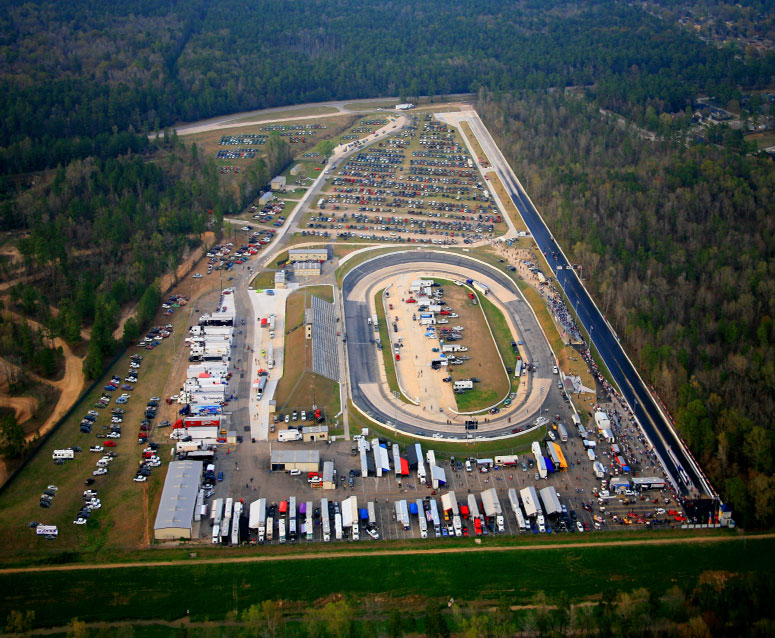 Specifications
Oval Track

3/8 Mile

High Banked

Asphalt Tri-oval with concrete turns 80 ft. wide

50% of the track infield is paved in concrete

Computerized Transponder Timing System
Features
Track available for private hire

Race Car Storage Facilities

VIP Suites

Media Room

Full Concessions Available

SUNOCO GASOLINE is available at track.