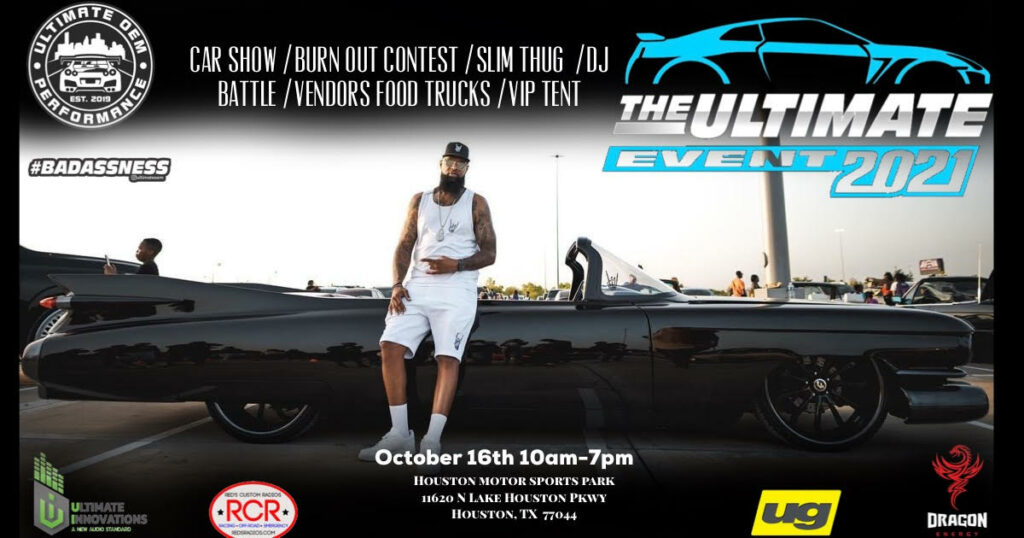 The Ultimate Event 2021All Vendors, Sponsors, Food Trucks, Volunteers and Vehicles registered for the Car Show: Roll in from 8:00am to 10:00am.
Car Show: Come see the Ultimate Classics, JDM, American Muscle, Jeeps, Trucks, Supercars and their owners who have worked tirelessly to take home an individual or Team trophy in this judged event. Car Show Judged Catagories: Top 25, Best of Show, Best Club/Team, Best Club/Team Display, Best Ice/Trunk Audio, Best Classic, Best Exotic, Best Vehicle Wrap, Best Itasha Wrap, Best Female vehicle, Best JDM, Best Vendor Car, Best Lifted Vehicle, Best American Muscle, Best Overall Mods, Best Track Ready vehicle , Best Slab and Best Engine Bay.
Master of Ceremonies: Josh YbarraDJ/Music: Welcome DJ Obedient and Obedient Entertainment as this year's master music specialists. Photography & Videography: Krane DesignsConcert: A massive stage, lighting, sound and LED panels to hype up the event with H-town talent for a full concert thanks to our friends at Anime Matsuri.
Current Entertainers: Leo Mendoza, Adrian Angelo and Houston's own Slim Thug
The Ultimate Z: We're giving away a 2003 Nissan 350Z to one lucky winner who will drive it home for just a $10.00 raffle ticket. ( No limit) with proceeds going to the Texas Children's Hospital.
Current list of sponsors for The Ultimate Z:Seibon Carbon, ANZO USA, Ryan Litteral Racing, Hurricane Auto Glass, Tint World-Webster, Detail Garage-South Houston, Apex Motor Trends, Underground Graphics, Ultimate Innovations, Anime Matsuri, Maaco Paint & Body, Toxicity Powdercoating, Yellow Speed Racing, APR Performance, Trinity Tuning, Notta Garage and more to come.
VIP Suite: Experience the Ultimate VIP package with our VIP Suites overlooking the track and stage area with food, adult beverages and private restrooms sponsored by Texas Pit Stop BBQ. (SOLD OUT)
Food Trucks: Local Mobile Restaurants (Food Trucks) will be on hand ready to serve up some of your favorite cuisines. Special Thank you to Sean at Chasethefoodtrucks.com.Current Food Trucks:Houston's Pink Box, Taste My Flavias, Scoop Craft Creamery, Keep It Loaded, Tanuki Go and Southern Slider Co. of Texas. Current Sponsors:Anime Matsuri, Dragon Energy Drinks, Red's Radios, Underground Graphics and Ultimate Innovations.Current Vendors: Trinity Tuning, White Pony Absorbents, Apex Motor Trends, Detail Garage South Houston, PWR Decals N More, Owl Cake It, Toxicity Powder Coating, The Rarest CBD, SZR Pro, Sinlife Customs, Runnin' Hot LLC, Tint World-Webster, Import Tech, EMP Parts, D3 Performance, Mobley Performance, Hello Garage of Memorial, Dream Eaters, Dry Ice Restoration Technology, Sounds & Signals, Custom Automotives, Fostering 4 Change, Top Dogz Sign Builders, Arc-Angel Battery LLC, Resort Vacations Inc, Level Up Tumblers, Mod FX, Next Level Automotive, LAJ Designs Studios, Powerfab Autosports, Kawaii Whisperer, Carbon Thread Designs, Ele Dulces and more to come. Sponsors, Manufacturers and Vendors.

Contact Ken Sanders at 281-456-4222 (office) 713-517-9370 (cell) or ken.ultimateoem@gmail.com if you would like to set up a Vendor Booth, Manufacturer Booth or would like to be a Sponsor at The Ultimate Event 2021. Prices vary by booth size, power is available.